Energy efficiency and consumption in universities and the higher education sector
The electricity demand of universities and other educational institutions are continuously rising due to the wide spread use of IT equipment and associated paraphernalia.
Moreover, university buildings may be also used by local communities, thus increasing occupancy hours and the use of facilities. This, in turn, consumes more heating and lighting, leading to even larger energy bills.
Most of the energy used by universities is associated with space heating, lighting loads and computer systems. Also, universities that have associated residential accommodation, student sports and leisure centres and facilities that include large science and biomedical laboratories consume even more energy.
Saving energy programmes in educational establishments also provide additional benefits such as:
It raises environmental awareness and motivates energy saving action amongst the staff and students alike.
Better control of heating and cooling systems can result in improved comfort conditions which can boost student productivity and morale.
There is also the opportunity to sell the social responsibility elements of energy management to current and prospective students, enhancing curricular activity and encouraging future generations to help minimise climate change – a lesson worth learned.
The table below shows typical energy usage figures in kWh per year for electrical and thermal energy associated with a variety of building types found in higher educational establishments.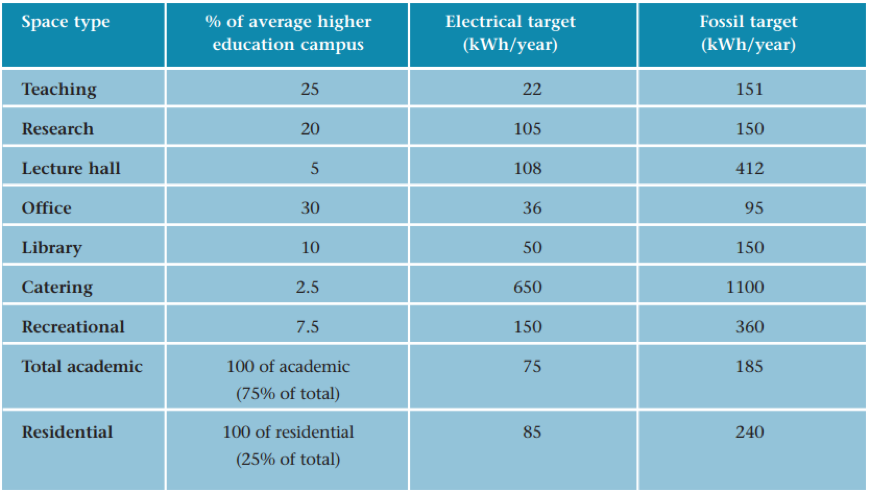 Typical areas of energy savings in universities
Improvements to building insulation and glazing.
The installation of building management systems and associated software to benchmark the building energy usage.
More efficiency hot water or steam boilers, better control of hot water and cooling pumps.
More efficient chillers, use of an ice bank cooling system.
The installation of intelligent control systems with next day weather forecasting optimised for the building thermal characteristics and better control of the heating and cooling temperature and room set point temperature for occupied and non-occupied periods through the day and night.
Install heating zones to better control of temperature and cooling.
Recover heat from exhaust air fans.
The installations of building energy management systems.
Night-time cooling during hot seasons and using natural ventilation or economiser cycle on HVAC systems to reduce chiller running hours.
Eliminate the potential of heating and cooling overlaps.
Control equipment usage in laboratories areas including fume cupboards fans.
Canteen equipment energy usage and operational procedures.
Install more efficient lighting.
Implement the international energy management systems ISO 50001.
Maximpact Building Energy Savings Methodology in Universities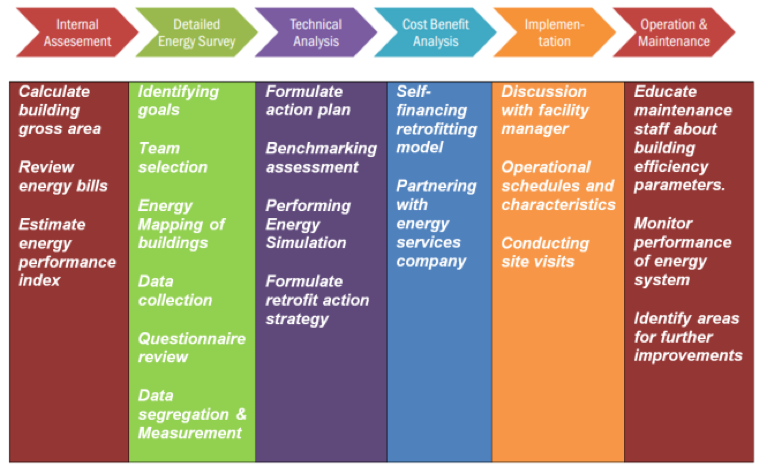 Maximpact Services in the Higher Educational Sector
Please find below our energy efficiency services. Contact us for more information.
Comprehensive energy audits
This energy audit will cover all buildings and heating and cooling systems, lighting systems, laboratory, sports areas and swimming pooland office areas. Our comprehensive energy audit specification will provide you with a detailed specification of our services and saving potential which is typically between 20% and 40% of your existing energy bills.
New equipment energy efficiency specification
Are you considering purchasing a new chiller, boiler or HVAC system or lighting retrofit?
If so then we can help you ensure that your vendors provide you with efficient equipment that will help you save on running cost over its lifetime. We can help you include energy efficiency specification into your tender documents and this will also ensure that all bidders bid on a level playing field.
Gap Analysis
We will study your existing energy management practices and determine what steps are required to be undertaking in order for youto implement an energy management system such as that provided by the international energy standard ISO 50001. This is typically called a gap analysis study.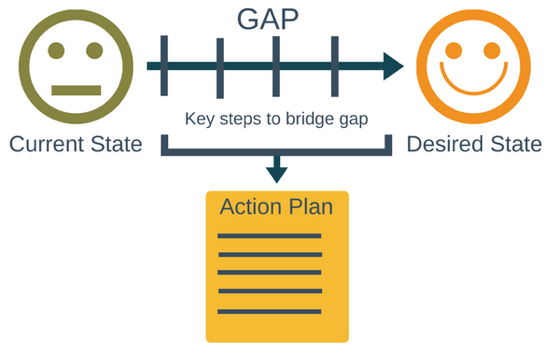 Thermal imaging study
Conduct a thermal imaging study of all building to detect building heat losses associated with poor insulation or building defect.
ISO 50001 full implementation support
We provide support for full implementation of the energy management systems ISO 50001 in your university.
Building assessment and resilience audit and recommendations action plan
How prepared isyour premises to cope with weather extremes? Is your building fabric and heating system capable of coping with climate extremes such as that seen recently in the US were a phenomenon of the polar vortex extending over northern parts of the USA came with temperatures as low as -50⁰C.
Weather extremes are occurring right now throughout the world. It was common practice in the past to design for specific minimum low ambient low and high temperatures based on weather statistics averaged or typically 50 to 100 years. Global warming has changed these statistics except design engineers have not.
We have formulated an approach to assess your premises and utility systems and their resilience to climate change. Act now and be prepared.
Renewable Energy for Educational Premises 
A feasibility study of the installation of solar water heating for domestic hot water usage.
A feasibility study of the installation of solar PV systems to displace imported grid power.
A feasibility study for utilising a renewable energy boiler to produce domestic hot water and for space heat using biofuels such as wood pellets or another renewable energy source.
A feasibility study on the potential for using geothermal energy to provide for domestic hot water and space heating needs.
A feasibility study of installing a natural gas-fired co-generation or a tri-generation system to supply electricity, heating and high-temperature cooling in the university areas.