Energy efficiency and consumption in leisure and sports centres
In a typical leisure and sports centre, energy costs are second only to labour costs, accounting for as much as 30% of total running costs. Leisure and sports centres feature an array of various activities from indoor sports halls to gymnasiums and swimming pools with pumps for wave machines and saunas that may feature electric steam generators. Many leisure centres also contain office space and canteens.
Lighting in leisure centres tends to feature high-intensity discharge type fittings with poor manual control. Swimming pools are major energy users which include thermal energy for water heating and electricity for water pumping and water filter backwash systems
Unlike leisure centres, ports centres may have outside stadium areas that feature large seating areas and extensive outside flood lighting systems. Some sports grounds feature underground heating systems that use hot water boilers to heat the sports ground during frosty weather.
Given the mix of equipment and energy sources in use in the typical leisure and sports centres, it is not surprising that these centres have excellent energy saving potential both for improved low-cost operational practices and energy efficiency retrofits.
Our previous work in sports and leisure centres has shown that energy savings in the order between 10% and 30% arepossible using a range of intervention measures. The upper saving is more likely associated with leisure centres that include a swimming pool and operate more than 5,000 hours per year in operation to achieve an economical payback period.
Click here to view one of our energy efficiency projects for Croke stadium in Ireland.
Breakdown of the energy users in a typical leisure centre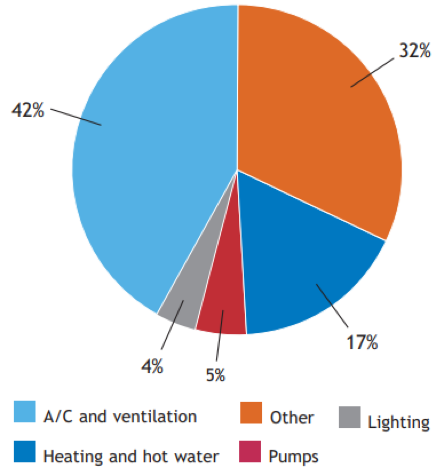 Typical areas for energy savings in leisure centres are shown below.
Include energy efficiency into new building construction and refurbishment projects including passive building designs
Improvements to building fabric to reduce heating losses
Improvements to Heating Ventilation and Air Conditioning Systems
Consider weather compensation controls for heating and cooling systems along with optimum start routines
Use of high-efficiency boilers and chiller plant
The installation of co-generation and tri-generation systems to supply electricity, heating and cooling for the leisure centre
Improvements to the control of ventilation fans and water pumps with timers and variable speed drives
Improvements to outside lights and underground heating system
The installation of a poor cover to reduce the latent heat evaporative losses from the poor surfaces
Please find below our energy efficiency services. Contact us for more information.
Comprehensive energy audits
This energy audit will include the building's heating and cooling systems, lighting systems, IT equipment survey and much more. Our comprehensive energy audit specification will provide you with a detailed specification of our services and saving potential which is typically between 20% and 40% of your existing energy bills.
New equipment energy efficiency specification
Are you considering purchasing a new chiller, boiler or HVAC system or lighting retrofit?
If so then we can help you ensure that your vendors provide you with efficient equipment that will help you save on running cost over its lifetime. We can help you include energy efficiency specification into your tender documents and this will also ensure that all bidders bid on a level playing field.
Thermal imaging study
Conduct a thermal imaging study of the building to detect building heat losses associated with poor insulation or building defect.
Assessment and resilience audit and recommendations action plan
How prepared is your premises to cope with weather extremes? Is your building fabric and heating system capable of coping with climate extremes such as that seen recently in the US were a phenomenon of the polar vortex extending over northern parts of the USA came with temperatures as low as -50⁰C.
Weather extremes are occurring right now throughout the world. It was common practice in the past to design for specific minimum low ambient low and high temperatures based on weather statistics averaged or typically 50 to 100 years. Global warming has changed these statistics except design engineers have not.
Renewable Energy for the Leisure and Sports Premises
A feasibility study of the installation of solar water heating for pool and shower hot water usage.
A feasibility study on the potential for using geothermal energy to provide for domestic hot water and space heating needs.
A feasibility study of the installation of Solar PV systems to displace imported electric power.
A feasibility study for utilising a renewable energy boiler to produce domestic hot water and for space heat using biofuels such as wood pellets or another renewable energy source.
A feasibility study of installing a co-generation or tri-generation systems to supply electricity, heating and cooling for the sports or leisure centre.