Energy efficiency and consumption in hotels and resorts
The hotel industry constitutes one of the most energy and resource intensive branches of the tourist industry. Substantial quantities of energy are consumed in providing comfort and services to guests, many of who are accustomed to, and willing to pay for exclusive amenities, treatment and entertainment.
An average US hotel pays yearly about $2,196 per room in energy cost. Hospitality industry in total spends about $3.7 billion on energy, representing between 55%-70% of utility costs.
The energy efficiency of the many different end-users in hotel facilities is frequently low, and the resulting environmental impacts are, therefore, typically greater than those caused by other types of buildings of similar size.
The energy use varies substantially between different types of hotels, and is affected by hotel size, class/category, the number of rooms, customer profile (guests visiting for business/on vacation), location (rural/remote or urban), climate zone, as well as by the types of services/activities and amenities provided to guests.
Energy costs in hotels typically amount to 5-8% of overall operational costs, and an even smaller fraction of the overall turnover. While energy costs are, therefore, often dismissed as too insignificant to bother with, they do represent a substantial proportion of controllable costs – often second only to labour costs
A hotel can be seen as the architectural combination of three distinct zones, all serving distinctly different purposes. These include the following:
The guest room area (bedrooms, bathrooms/showers, toilets)
Individual spaces, often with extensive glazing, asynchronous utilization and varying energy loads
The public area (reception hall, lobby, bars, restaurants, meeting rooms, swimming pool, sauna, etc.). These spaces have a high rate of heat exchange with the outdoor environment with high thermal losses and high internal loads (occupants, appliances/equipment, and lighting)
The service area (kitchens, offices, storerooms, laundry, staff facilities, machine rooms and other technical sections) which are all energy-intensive areas typically requiring advanced air handling (ventilation, cooling, heating systems)
Energy efficient practices are extremely important to hotels, and the can provide energy savings of 20%-35% or more dependent on the technologies used and the expenditure level.
The table below shows a breakdown of energyconsumption in a typical European hotel.
Breakdown of the energy consumption in a typical hotel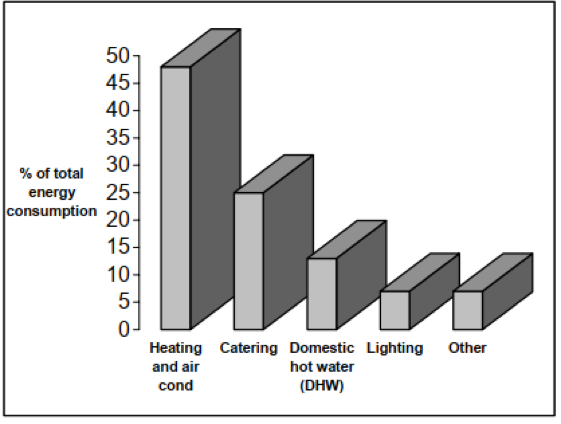 The actual efficiency of how energy is utilised in different hotel categories vary considerablyas shown in the table below.
Comparison of the Specific Energy Usage of Various Hotel Types in Southern Europe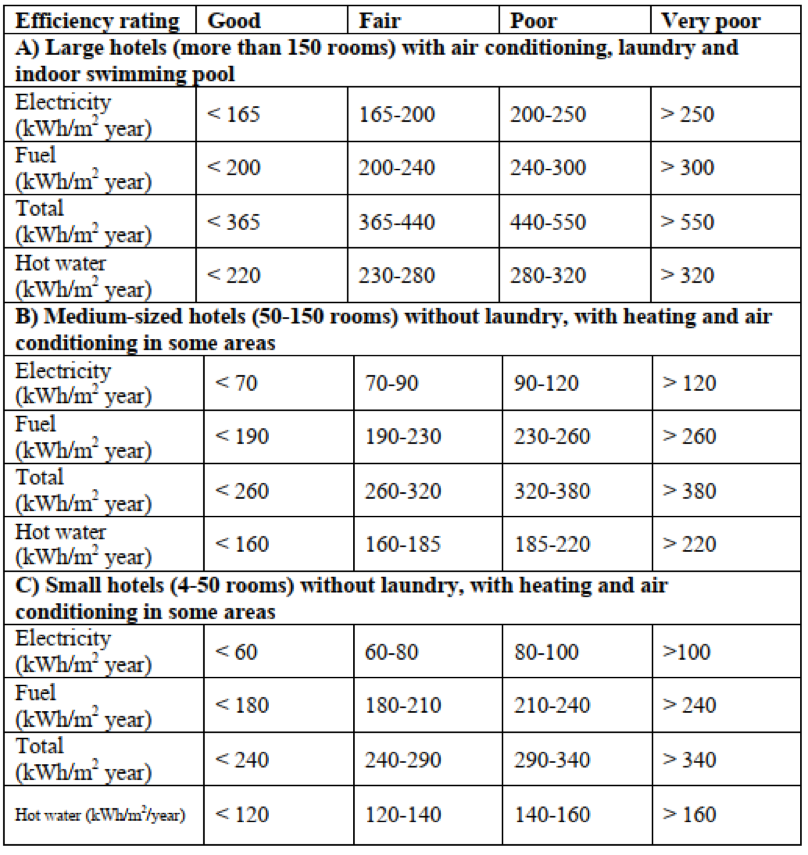 Energy savings in resort hotels
There are a variety of ways which a resort, club or hotel can improve energy efficiency and eliminate waste. These include the following:
Automation: Automating shut down procedures for heating and cooling systems and lighting when they are not in use.

Energy Monitoring: 

Improving management and control by centralising heating and cooling systems.

Motors, Pumps and Appliances: 

Using modern technology such as drive pumps and repairing faulty appliances.

Lighting: 

Upgrading lights with new technology compatible with legacy systems.

Purchasing of New Equipment:

 Ensure that any new equipment purchased is specified with energy efficiency in mind.
Please find below our energy efficiency services. Contact us for more information.
Comprehensive energy audits
This energy audit will include the building's heating and cooling systems, lighting systems, IT equipment survey and much more. Our comprehensive energy audit specification will provide you with a detailed specification of our services and saving potential, which is typically between 20% and 40% of your existing energy bills.
New equipment energy efficiency specification
Are you considering purchasing a new chiller, boiler or HVAC system or lighting retrofit?
If so then we can help you ensure that your vendors provide you with efficient equipment that will help you saveon running cost over its lifetime. We can help you include energy efficiency specification into your tender documents and this will also ensure that all bidders bid on a level playing field.
Thermal imaging study
Conduct a thermal imaging study of the building of the hotel buildings, leisure and pool area to detect building heat losses associated with poor insulation or building defects.
Study on the potential of installing an intelligent energy management system
Provide a study on the potential of installing an intelligent building energy management system that will enable the hotel's management to account for energy usage in the various areas and that used by hotel's staff and guests.
Renewable Energy for hotel resorts
A feasibility study of the installationof solar water heating for pool and shower hot water usage.
A feasibility study on the potential for using geothermal energy to provide for domestic hot water and space heating needs.
A feasibility study for utilising a renewable energy boiler to produce domestic hot water and for space heat using biofuels such as wood pellets or another renewable energy source.
A feasibility study of the installation of Solar PV systems to displace imported electric power.
A feasibility study of installing a co-generation or tri-generation systems to supply electricity, heating and cooling for the hotels.